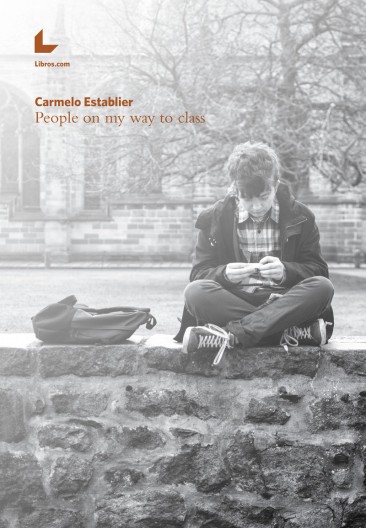 Este libro ha sido publicado tras completar una campaña de crowdfunding.
Mecenas, colaboradores y toda una comunidad de incondicionales dieron su apoyo a este proyecto para que ahora tú, lector, puedas tenerlo en tus manos.
Ver campaña de crowdfunding
Carmelo Establier
Colección Fuera de colección
¿Has encontrado alguna errata en este libro?
¡No somos perfectos!
Es posible que hayamos pasado por alto alguna errata en el texto.

Lector, si has encontrado algún error, ayúdanos y lo corregiremos.
Definición de errata

¡Muchas gracias!
Revisaremos tu correción y aplicaremos los cambios necesarios.
Tu email
Página (en papel)
Transcribe el original
Sugiere una corrección
Carmelo Establier
People on my way to class
Colección Fuera de colección
Description
People on my way to class is a photography project that took place in February 2013.
During one month, everyday, on my way to class and return I took pictures of the faces that I came across.

This gave me the opportunity to collect more than 200 pictures of moments of the early morning society of Aberdeen, Scotland.

After some thinking, I chose 46 pictures that represent all the best moments of that early morning society.
People on my way to class
is all in black and white. Aberdeen's granite stones tones come to life in this pictures, focusing in shape and action by leaving colour aside.
Bio
My name is Carmelo Establier. I'm a photographer based in Aberdeen, Scotland, president of the Photography Society of the University of Aberdeen, and MA Language and Linguistics student.

My passion for photography started at a very young age when I played with my father's SLR. Time only kindled my passion for this art that is capturing light and reflections.
Why did I decide to start this project?
Exactly two years ago I moved to Aberdeen as part of the Erasmus Exchange Program. After a year that changed my life, having fallen in love with this city and a very, very special person, I decided to transfer myself here to finish my studies.

Aberdeen will always have a special place in my heart, not only for the people I met here, but also for the huge change in my life that it meant.

This project is a big thanks (and applause) to Aberdeen.
Photos